Here in the office of Interactive for Good, you'll find that our team is addicted to 'pinning'.  The website Pinterest has taken over the interactive space by storm with its quick and easy way to categorize inspirational ideas, photos and quotes.  According to comScore, Pinterest hit the 11.7 million unique users mark in January making it the fastest growing social site in history.  What started as a way for users to organize and share things you see online that you love has turned into an opportunity for businesses to spread their message or product.
It's no surprise that many web savvy non-profits have joined the Pinterest band wagon to use this tool to reach new supporters.  On one website, a non-profit is able to quickly 'pin' photos of their humanitarian work, inspirational quotes, videos and the list goes on.  Let's take a look at a few non-profits that are doing an incredible job at 'pinning'!
Charity Water
Charity Water does an amazing job at using social media to grow their cause and their Pinterest page is proof.  Besides pinning 'Charity Water Gear' for users to buy, they stay current by posting daily photos of their work.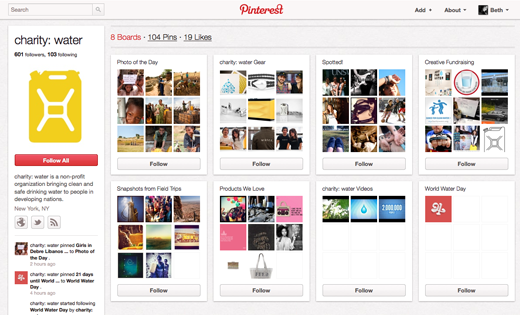 UNICEF does a great job at displaying their celebrity supporters, photos and current videos
Mercy Corps fills their boards with inspirational quotes and infographics on changing the world.  If you need a dose of inspiration, view their pinterest page and take action!
Quick Tip! How do I pin as a Non-Profit?
• Sign up for Pinterest under your non-profit's name
• Download the 'Pin It' button through Pinterest
• Find an inspirational element you'd like to share.  For example, if you build wells in Africa, 'pin' your photos of well building to your Pinterest Board.
• Pin lingo (graphic by the talented MDG Advertising)